Blockchain Hype? Drivers for the Blockchain Use Cases is a post that divulges few drivers for the blockchain use cases. In my previous post, I covered the basics of blockchain.
Blockchain Hype? Drivers for the Blockchain Use Cases
My great joy in my current role as a Chief Architect and Cloud & Cognitive leader is to guide my customers on leveraging technology trends to innovate. One of the many avenues I've been leveraging to introduce my customers to the various technologies is hosting workshops. The attendees of these workshops are usually dominated by technologists and architects. However, for the blockchain workshops, I noticed a shift where majority of the attendees were business analysts, strategists and middle to upper management spanning across industries.
The attendees were starving to learn the business value of this technology and were in search on how this technology can be applied to their businesses. Through our conversations, it was apparent that the industry is facing fundamental business challenges where blockchain can potentially resolve.
The common dilemma customers have is "finding applicable use cases" for this technology. I always advise them not to be a "hammer looking for a nail". I advise them to implement blockchain into systemic solutions to solve fundamental challenges with their businesses. Basically, to dig deeper to divulge the drivers for the blockchain use cases and ability to answer this fundamental question "What are we trying to solve with this use case?"
Consider the Walmart Food Safety blockchain use case. The intent of this use case is to "strengthen consumer confidence in the global food system". To achieve their goal, Walmart requires full "traceability" and "transparency" into their complex distribution and processing ecosystem involving farmers, distributors, retailers and consumers. Indeed, that's a prime use case for blockchain.
My interactions with my customers over this topic revealed many underlying business challenges well suited for blockchain. They revolved around:
Having audit trails of asset across stakeholders
Ensuring authenticity of participating parties yet maintaining their privacy
Having a consent model to process transactions
Accelerating transaction processing by eliminating mediators
Providing various parties accessibility to a trusted ledger
Accelerating dispute resolution and eliminating conflict scenarios
Having an integrated trusted network allowing various parties to exchange sensitive information globally or locally
and the list goes on.
Check out the video titled "How to describe blockchain in 10 seconds or less" for additional perspectives on the topic.
About the Author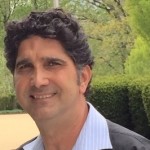 Sami Joueidi holds a Masters degree in Electrical Engineering. He is currently residing in South Florida and working for a fortune 500 company as the Executive Cloud, Cognitive and Blockchain Leader. His role is to guide customers on adapting the appropriate cloud strategy for their enterprises, incorporating cognitive capabilities and leveraging the latest technology trends to innovate.

© Sami Joueidi and www.cafesami.com, 2017. Excerpts and links may be used, provided that full and clear credit is given to Sami Joueidi and www.cafesami.com with appropriate and specific direction to the original content.