Blockchain Overview is a post on how blockchain empowers businesses to collaborate with each other in a trusted manner. In my other post titled "Blockchain as strategy for addressing traceability across the value chain", I presented a use case on the value proposition of blockchain.
Blockchain Overview – Collaboration In a Trusted Manner
For centuries businesses collaborated with each other. They used ledgers to record the financial transactions, assets, owners' equity, liabilities, revenues and expenses. In the current system, the parties involved with these transactions keep their own copy of the ledger. Subsequently, they update their copy as transactions occur. This process leads to discrepancies in the ledger resulting in disputes and conflicts among the involved parties. Often times, the flow of transactions must conform to regulatory requirements (e.g. maintaining access control, privacy and security). Governance and compliance are usually manual and lengthy tasks and often require intermediaries. Another issue is trusting the parties on the business network as being trustworthy with a good track record.
An alternative to this system is Blockchain. The flow of goods and services are recorded in a ledger. It is one ledger that is distributed and shared, in real-time, among all involved parties. Identity and access management are enforced and intermediaries are often eliminated since governance and compliance become actionable and trigged when exchange of assets occur. Transactions are committed to the ledger and cannot be modified or deleted. The ledger becomes the one trusted system of record across the business network establishing accountability, trust and transparency.
Blockchain eliminates inefficiencies when businesses interact with each other. It enables new business models and creates new opportunities for businesses to come together in new ways.
About the Author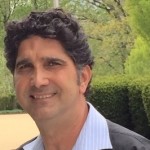 Sami Joueidi holds a Masters degree in Electrical Engineering. He is currently residing in South Florida and working for a fortune 500 company as the Cloud and Cognitive leader & Chief Architect for the Federal business unit. He is also the Blockchain leader for the division. His role is to guide customers on adapting the appropriate cloud strategy for their enterprises. He also guides them on how to incorporate cognitive capabilities and leverage the latest technology trends to innovate.

© Sami Joueidi and www.cafesami.com, 2017. Excerpts and links may be used, provided that full and clear credit is given to Sami Joueidi and www.cafesami.com with appropriate and specific direction to the original content.